Jackie Robinson - The Later Years

As we tend to do with historical figures, Jackie Robinson's life has been turned into hagiography. We all know the broad outlines of the story: He was signed by a brave and forward-thinking Branch Rickey. He faced numerous indignities and threats on and off the field in his inaugural season of 1947. But after this baptism of fire, by his dignity as a person and his unquestionable skills as a player, not only did he triumph personally, but the era of segregation in baseball ended. People like their stories to be simple, and their heroes to be uncomplicated.
Of course, it wasn't so simple. Regarding the integration of organized baseball, it took a full twelve more years before each club had signed at least one African-American player. It wasn't until Pumpsie Green debuted for the Boston Red Sox in 1959 that all sixteen clubs had integrated. Ironically, it was Boston who held a sham tryout for Robinson in 1945, an experience Jackie described as humiliating. In the minors, the 1950s were rife with turmoil regarding attempts to bring in black players, particularly in leagues based in the southern United States.
Robinson steals home against Yankees and Yogi Berra in 1955 World Series.
On the field Robinson's fearlessness, competitiveness, speed, and great eye at the plate made him not only the most exciting player of his time, but one of the best players in the game. He won baseball's very first Rookie of the Year award in 1947. He was not generally a power hitter, but could hit line drives to all fields, rarely struck out, and of course was one of the most dangerous baserunners of all time. He also benefited from playing on an excellent Brooklyn club – the Dodgers went to the World Series five times in his ten seasons with Brooklyn, facing the New York Yankees each time.
But if you were to assume that once his initial hurdles to acceptance were overcome that life was easy for Robinson you would be wrong. It is well-known that Branch Rickey extracted a promise from Robinson that he would not fight back for two years, so as not to endanger the great "experiment" that Rickey had so carefully laid the groundwork for. But after those two years were up, Robinson took the gloves off. He no longer had to accept treatment different from that of other players, and he let it be known that he wouldn't. On the field Robinson was a fighter, not only for his personal dignity, but for his team. He took on opposing players, umpires, and sportswriters (who wielded far more power in the baseball world than they do today) with equal measure. Off the field, he was equally outspoken. For a ballplayer to speak out on social issues at that time was already a rarity, but for a black ballplayer to do so was highly controversial (maybe things haven't changed that much). It was felt by much of the baseball establishment and the press, as well as many fellow players, that Robinson, having "made it" should be "grateful". That is, he should play ball and keep his mouth shut. Robinson refused to oblige, expressing his view that letting a few black players into baseball – after decades of refusing to allow them – was not enough. Baseball needed to do more, particularly by hiring black managers and front office personnel. This was not a message writers like the New York Daily News' Dick Young wished to hear, and even a few of Robinson's fellow black players (Roy Campanella is often cited) expressed the view that Jackie, by being so outspoken, would "spoil" the chances that they had to make in the bigs.
---
The Dodgers finally achieved their long-sought after goal of a world championship by beating the Yankees in the 1955 World Series. The long-elusive "next year" for Brooklyn fans had finally arrived. By this time the pressure of all he had been through had started to take a toll on Jackie's health, and his baseball skills began to decline, as happens to even the greatest players. Perhaps even more importantly he lost a key ally when Walter O'Malley outmaneuvered Branch Rickey to take control of the Dodgers in 1950. O'Malley considered Robinson a "Rickey man", and a troublemaker. When Walter Alston took charge of the Dodgers as manager in 1955, his relationship with Robinson got off to a rocky start and never fully recovered. Finally, seeing an opportunity to rid himself of Robinson, O'Malley traded him to the crosstown rival New York Giants after the 1956 season. It is often said that Robinson was such a true blue Dodger that he refused to report to the hated Giants. The truth is more prosaic: Robinson had already accepted a position as Vice President of the Chock Full O' Nuts coffee company and was waiting for the right time to announce his retirement. He had also promised Look magazine an exclusive on his retirement announcement and the Giant trade forced his hand. It is a sad commentary on the baseball world that Robinson saw no role for himself as a manager or in the front office of the Dodgers or any other MLB team. Regardless of who was at fault, no offer in baseball was forthcoming, and Robinson was eager for new challenges in the business world.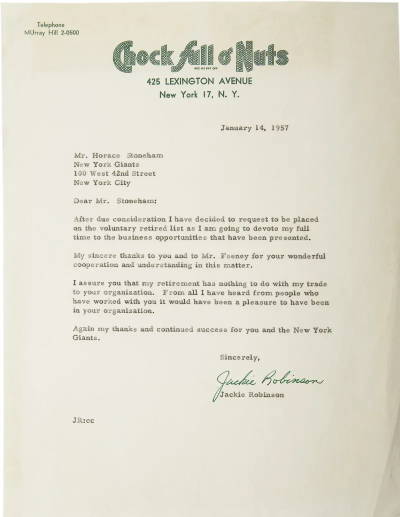 Robinson's retirement letter to Giants owner Horace Stoneham.
Jackie probably could have enjoyed a quiet post-baseball career of playing golf and doing occasional speaking engagements, and he did those things, but it would not have been in character for the man that broke baseball's color barrier to walk away from the battle he was already so intimately a part of. He saw his personal struggle as just one part of the struggle for the progress of his people, and he immersed himself in the civil rights movement of the 50s and 60s. He befriended Martin Luther King Jr. and argued publicly with Malcolm X, whose separatism he rejected. Although Robinson was a registered Republican, this was in the time when the Republican Party had a staunch progressive wing led by social liberals such as Governor Nelson Rockefeller. He supported Richard Nixon in the 1960 presidential election because he thought John F. Kennedy was not sufficiently serious about civil rights issues. (He later complained that Nixon had lied to him and praised the Kennedy administration' actions on civil rights). In his autobiography – fittingly titled I Never Had It Made - he described in horror his experiences as a delegate to the Republican National Convention in 1964, when he was harassed by Goldwater supporters. He denounced Goldwater as a bigot and endorsed Lyndon Johnson for president.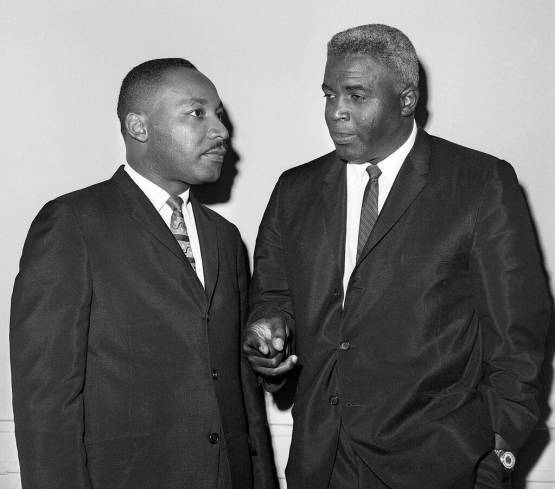 Jackie Robinson with Dr. Martin Luther King Jr.
Robinson's only foray back into sports was a brief and unsatisfying one. In 1966 he was named General Manager of the new Brooklyn Dodgers of the fledgling Continental Football League, a minor league with major league pretensions. Robinson was mostly used for PR purposes, trying (and failing) to get the Dodgers playing dates at Shea Stadium and doing numerous press interviews in support of the team. In the end, the football Dodgers played home games at Downing Stadium under the Tri-Borough Bridge, which was nowhere near Brooklyn, however the stadium's lights came from Ebbets Field. In any event the team expired at the end of its first season.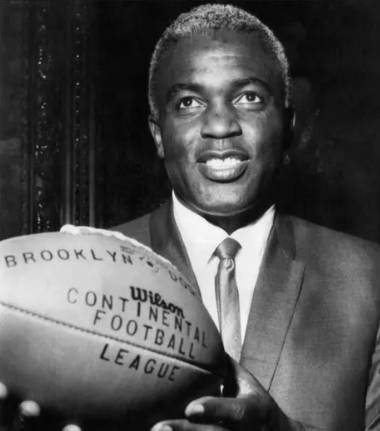 Robinson as General Manager of the Continental Football League's Brooklyn Dodgers.
---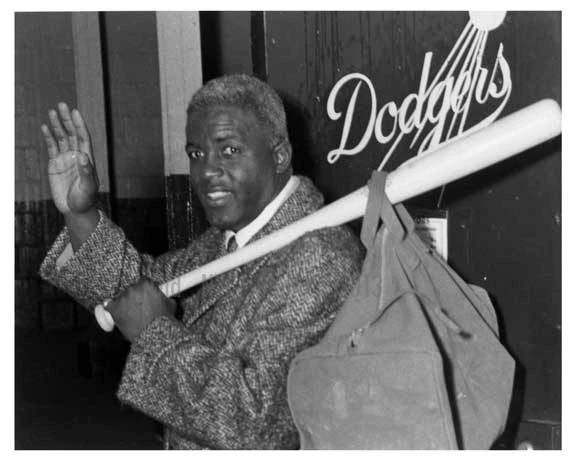 Robinson leaves Ebbets Field clubhouse for the last time.
Robinson was also deeply affected by the travails of his son, Jackie Jr. The younger Robinson had had a troubled childhood, and developed a drug problem while serving in Vietnam. Although he eventually overcame his addiction and started working with addicts as a counselor, he died in a car crash at the age of 24 in 1971.
On October 24, 1972, Jackie Robinson, weakened by diabetes and heart disease, and almost blind, died of a heart attack. He was only 53 years old.
There will always be those who think sports is merely entertainment, who would silence voices that say uncomfortable things. That professional athletes are "lucky" to be where they are, and should just "stick to sports". When I am asked why I disagree with that sentiment I reply with two words: Jackie Robinson.
"You want a guy that comes to play. This guy didn't just come to play. He come to beat you. He come to stuff the goddamn bat right up your ass." -Leo Durocher