The Jackie Robinson All Stars

It was common back in the day for star ballplayers to undertake travelling "barnstorming" tours after the regular season ended. The tradition goes back decades. Babe Ruth's "Bustin' Babes" toured with Lou Gehrig's "Larrupin' Lous" in the late 1920s. It was a great way for players to take advantage of their star power, by bringing the excitement of major league players to distant communities at a time when there were only ten major league cities. It also provided much-needed extra income. There were also many teams who survived entirely on barnstorming, Michigan's bewhiskered House of David the most famous among them.
The first Jackie Robinson All-Stars team played before he was officially a Brooklyn Dodger. After his first and only season with the Montreal Royals, Robinson, already famous, toured with a team of Negro leaguers. In 1953 he repeated the feat, this time with an integrated team that featured several Brooklyn Dodger teammates, including Gil Hodges and Ralph Branca.
History only provides us with a few snippets from this tour (and precious few photographs). But one difficult challenge for Robinson's integrated team came when they scheduled a game against Negro leagues competition in Birmingham, Alabama in October. Police Chief Eugene "Bull" Connor (yes, the same Bull Connor who a few years later turned water hoses and police dogs on peaceful civil rights protesters) decreed that since Birmingham had an ordinance prohibiting athletic competitions with "mixed" participants, the game could not go forward. This, six years after the major leagues had integrated. Rather than cancel, Robinson chose to bench his white players for this one contest.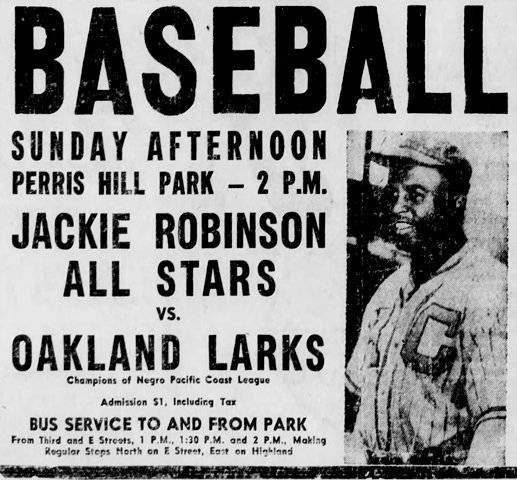 We are proud to offer this authentic reproduction of the wool warm-up jacket from Robinson's All-Star team of 1953. It is in the classic longer "fingertip" style with felt lettering, snap front, leather pocket trim, and satin lining. This is a limited edition jacket, which is made-to-order. Please allow 4-6 weeks for production. A portion of the proceeds of each jacket sold will go to the Jackie Robinson Foundation.