"I've never made a kinetic sculpture this big before," says Premo. "Someone's gonna get hit with a ball."
- Mac Premo

Mac Premo wearing our Newark Bears 1942 Road Jersey & our Newark Bears 1947 Ballcap with his Bunt Machine
For one weekend in Brooklyn, five large wooden contraptions––built to approximate a pitcher, batter, shortstop, second baseman, and first baseman––whizzed baseballs around the large open space of an art gallery, turning one double play after the next. The 6-4-3 machine, named for the scorebook numbering system for a double play from the shortstop to second base to first base, is the most recent work from Brooklyn artist, filmmaker, commercial director, and baseball fan, Mac Premo.
"It's a good room full of machines that in essence reify a 6-4-3," says Premo. "Turn that event into an object."
The room is the gallery at the Invisible Dog Art Center in the Cobble Hill neighborhood of Brooklyn. And the machines were all built in Premo's workshop and studio, located upstairs above the gallery.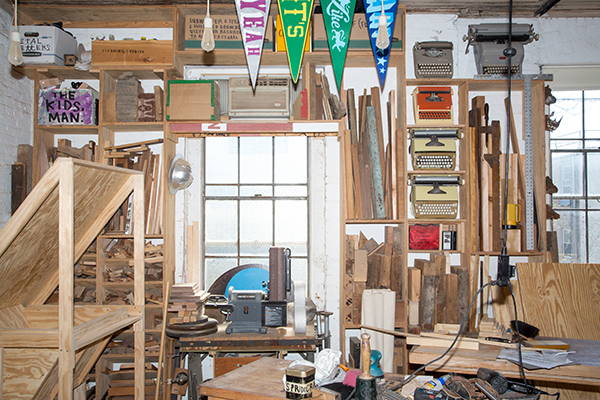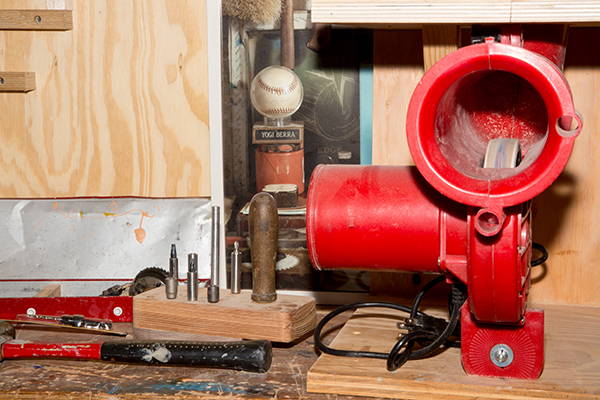 The entire process began about a year and half ago, when an idea came to Premo in a dream to build a machine that lays down a bunt. As Premo often uses carpentry in his work to build different objects and simple machines, that idea soon was turned into The Bunt Machine, a wooden machine that laid down a bunt, and in the process touched on ideas of turning an act into an object, paying homage to a dying tradition, and honoring subtlety over grandiosity. Premo then adapted The Bunt Machine into a one-man play that he performed in New York and Los Angeles.
For the 6-4-3 machine, Premo applied similar ideas around automation and turning a human act into an object, but took on a larger, more complex act, the double play.
"I've never made a kinetic sculpture this big before," says Premo. "Someone's gonna get hit with a ball."
While Premo acknowledges that he could have worked with engineers and built the machine fairly easily and quickly, although at a much higher expense, he instead elected to take a slow, more personal approach.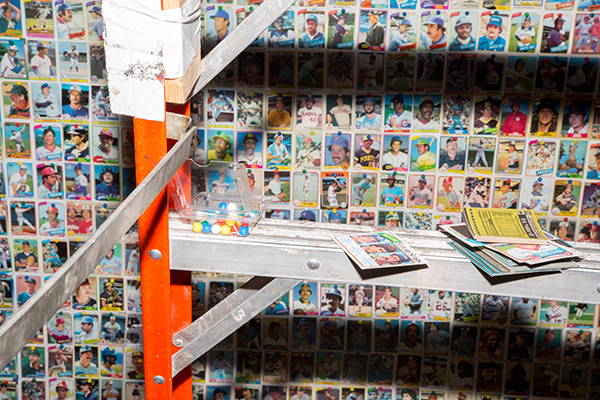 Off and on for about a month and a half, Premo worked in his studio to build each piece of each machine. He bought refurbished pitching machines on eBay, found soft baseballs that hopefully wouldn't kill or maim the inevitable victims to walk through the middle of the diamond, and figured out the angles he would need for each ball to hit the canvas roof of each machine, drop into the wooden funnel and into the entry hole for the pitching machine to shoot the ball to the next position. All the while, Premo, a lifelong Yankees fan who spent much of his childhood in New Jersey, would be listening to Yankees day games on the radio.
"I try really hard to schedule building tasks around day games," says Premo. "My favorite thing in the world other than my family is working on a woodworking thing, listening to a game."
After eventually getting two of the machines to be able to play catch in his studio, he moved them downstairs and began setting up the whole diamond for the opening.
"There are ideas of reification and I can go off on the whole art tangent," says Premo. "But then there's also an aspect of this project where it's like 'dude I just want to make a fucking double play out of machines and put in a room.'"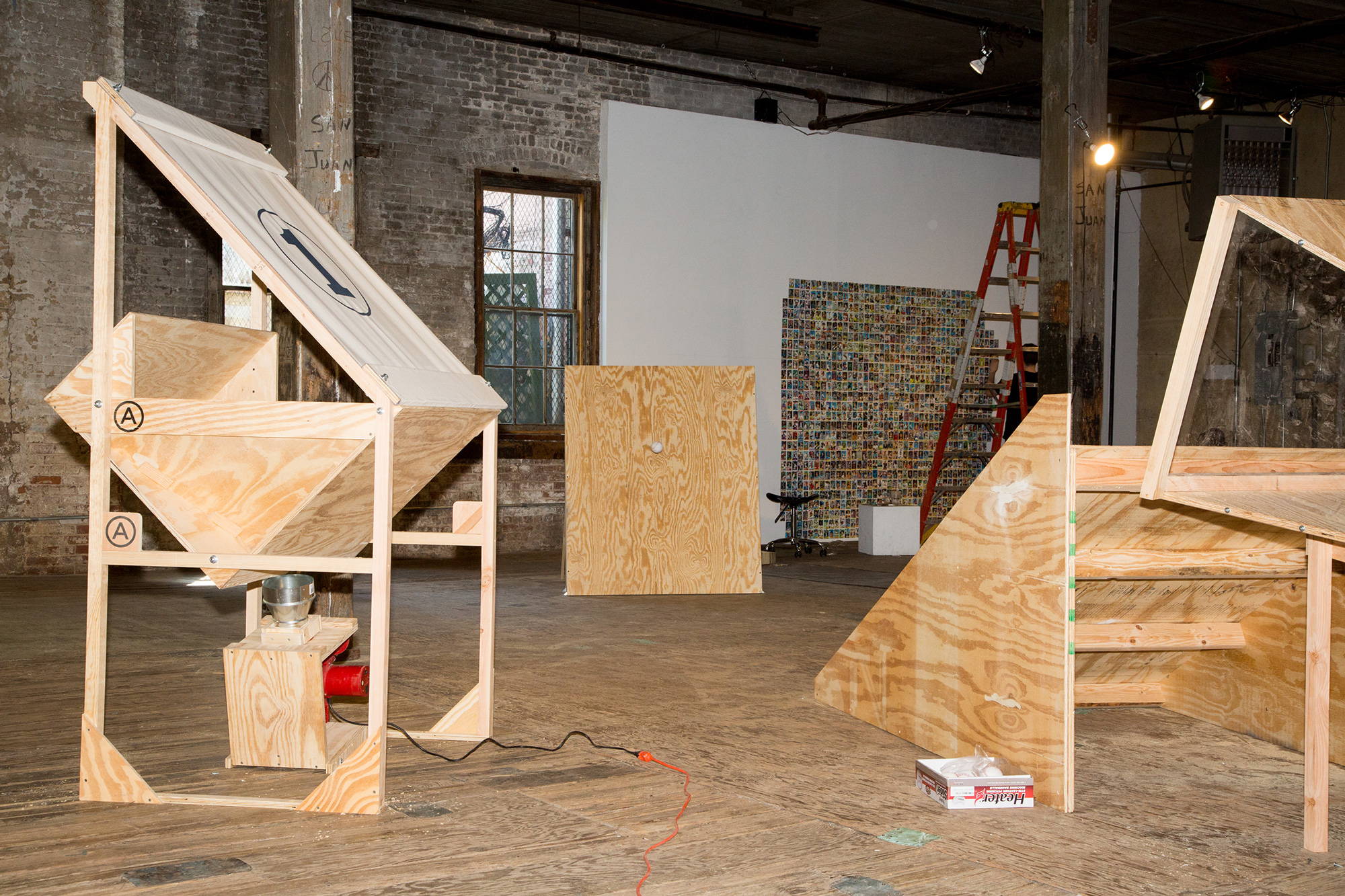 ---