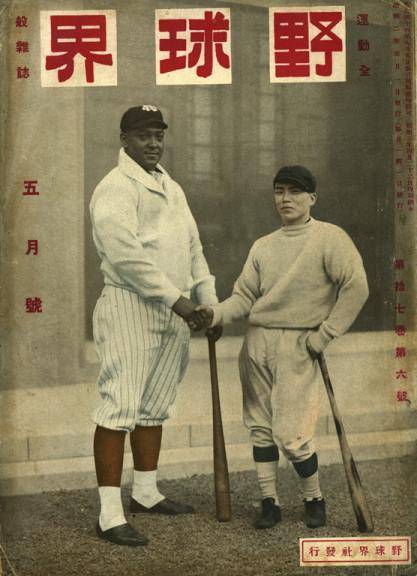 Biz Mackey and Kenichi Zenimura in Japan
The most important Japanese-American baseball league in history was not held in a glittering professional ballpark or even in a major city of Japanese immigrants like Los Angeles, Seattle, or Honolulu, but rather on a makeshift field in the middle of the Arizona desert, 30 miles southeast of Phoenix.
Gila River War Relocation Center, located on Arizona's Gila River Indian Reservation, was one of 10 concentration camps built by the War Relocation Authority to imprison American citizens of Japanese descent throughout the western part of the country during World War II. From 1942 to 1945, Gila River was home to 13,000 people, making it the fourth largest city in the state of Arizona. Like at other camps, residents at Gila River built and maintained all aspects of a community including schools, playgrounds, a theater, and, most famously, a 6,000-seat baseball stadium that hosted a 32-team league.

While other camps boasted baseball fields and leagues as well––acclaimed photographers Dorothea Lange and Ansel Adams both photographed baseball games at Manzanar War Relocation Center in California––no other camp had a stadium or league on par with that of Gila River. What made Gila River unique in that regard was that among the camp's 13,000 residents was a man named Kenichi Zenimura, known more generally as "The Father of Japanese American Baseball."

Zenimura was born in Hiroshima, Japan, in 1900, but emigrated to Honolulu, Hawaii, with his family as an infant. He found a passion for playing baseball while in high school in Honolulu, and at age 20, Zenimura moved to the mainland, settling in Fresno, California, where he began playing with a number of amateur and semi-pro ballclubs. As a player, he developed a reputation for being able to play and excel at all nine positions on the field. However, he became even more well-known internationally as a team manager and promoter. Zenimura first started on the managerial and promotional side by organizing Japanese-American, or "Nisei," clubs. He then began arranging for his Nisei teams to go on barnstorming tours of his ancestral homeland of Japan, which he did in 1924, 1927, and 1937. By helping to strengthen the Japanese baseball market with these barnstorming tours, as well as gaining knowledge and experience, Zenimura also helped lead a Negro League team to Japan in 1927, and was instrumental in bringing the team led by Hall of Famers Babe Ruth, Lou Gehrig, and Jimmie Foxx to Japan in 1934.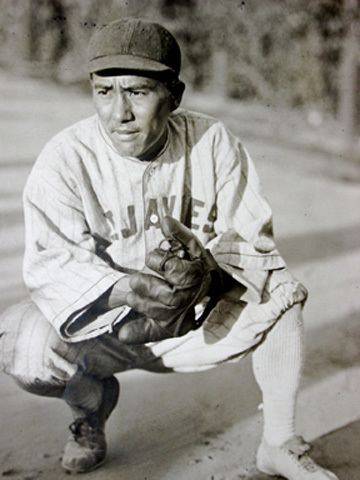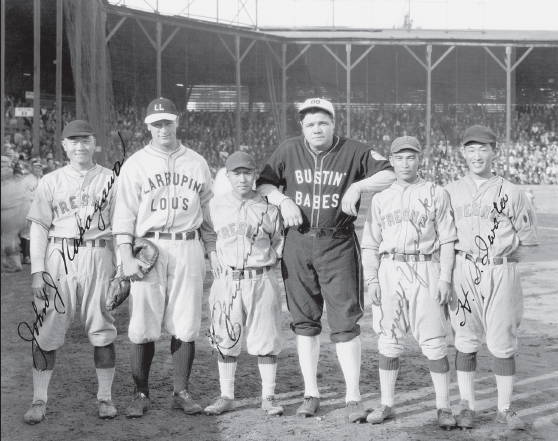 Kenichi Zenimura, the father of Japanese American baseball, with Lou Gherig and Babe Ruth
However none of his accomplishments in baseball, including his efforts in supporting the openly nationalist Ruth-led All American Tour of Japan in 1934, protected him against President Roosevelt's decree in early 1942 that all Americans of Japanese ancestry living in the western part of the country would be sequestered for the duration of the war in concentration camps. So when Zenimura arrived at Gila River, within two weeks began work on a simple baseball field.

With baselines made of flour, rice bags for bases, and a home plate made of repurposed wood, Zenimura Field opened for its first official games on March 7th, 1943. Soon thereafter, Zenimura was running a league with 32-teams broken into three different classes by playing ability. In addition to playing amongst themselves, Zenimura's teams frequently brought in outside teams for exhibitions––which also aimed to break racial prejudices from the prevailing white majority towards Gila River's Japanese residents––and also occasionally traveled to play the teams of other War Relocation Camps.

With little resources in a bleak landscape, Zenimura had built the premier Japanese-American baseball league in the entire country. The very existence of his league, and those like it at other camps, was an act of tremendous self-determination, personal and communal pride and identity, and an enduring act of defiance against racial oppression. President Roosevelt may have viewed them as not fully American, but as one ballplayer at Manzanar in California said, "Putting on a baseball uniform is like wearing the American flag."

SHOP OUR JAPANESE BASEBALL COLLECTION