Fuji Athletic Club Crewneck Sweatshirt
$89.00
Monthly payments available on orders over $199 with Affirm
Description: Cut from large looped French terry fabric, these sweatshirts are our softest yet. Finished with sewn felt lettering and made entirely in the USA.
Product Details:
Made in the USA
Black large loop French terry cotton
Sewn felt lettering
Vintage cut
Relaxed fit collar
Wide sleeve & waist ribbing
Item #: FUJCS
League: Independent
History: The Portland Fuji was coached by Frank Fukuda, who was fundamental in developing Japanese Baseball in the Pacific Northwest. Fukuda played, coached, and managed for the Seattle Asahi, and other local ball clubs for nearly two decades. He moved to Portland in 1927, where he continued to lead teams to league and tournament championships.
x
CREWNECK SWEATSHIRTS
| SIZE | CHEST SIZE | LENGTH |
| --- | --- | --- |
| X-Small | 35" | 26.5" |
| Small | 39" | 27" |
| Medium | 43" | 28" |
| Large | 48" | 29" |
| XL | 52" | 29.5" |
| 2XL | 56" | 30.5" |
Size Guide

CREWNECK SWEATSHIRTS

| SIZE | CHEST SIZE | LENGTH |
| --- | --- | --- |
| X-Small | 35" | 26.5" |
| Small | 39" | 27" |
| Medium | 43" | 28" |
| Large | 48" | 29" |
| XL | 52" | 29.5" |
| 2XL | 56" | 30.5" |

Returns/Exchanges

30 day Return Policy. If your item is unworn and in resellable condition you can return for a full refund within 30 days (shipping rates apply).

Doesn't fit? No worries, exchange for the perfect fit within 30 days of delivery.

See our complete return policy

Shipping

$5.95 Flat-Rate Shipping* | FREE on orders $125 & up* | $20 Flat-Rate International

* Within the US.
Customer Reviews
Write a Review
Ask a Question
Lovely product, amazing response from EFF
I ordered the this crewneck sweatshirt on short notice prior to my trip to Japan. About a week before my trip, I contacted EFF to see if it would be possible if that could expedite the order process so that I could enjoy and wear my sweater during our journey in Japan. Although the Customer Service REP could not guarantee that they would be able to deliver in time, EFF did that and more. About 3 days later, my new sweater arrived in Miami. I was blown away with this response, especially for a made to order item such as this. Kudos to EFF and their production team. I was blown away with this customer service response. Duomo Arigato, Brett Firestone Happy EFF Customer :)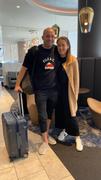 Incredible quality
Amazing quality! I got a size medium, and I'm 5'11 and 178lbs. It fits snug, but not tight and it's very comfortable!
Love the Crewnecks!
The feel of the material is great and the appliqués are special. This is my second one!
Great Quality item. Fitting is tricky.
This sweatshirt is very good quality. The only problem is that I ordered the wrong size because the sizing is strange. People said that these run extremely large so I ordered a size smaller. I think that's a bit of an over exaggeration. In my opinion just order your normal size, if you're between sizes go down, but otherwise just go normal and expect it to be a little bit bigger.