Best Seller
San Francisco 49ers 1955 Durene Football Jersey
$325.00
Description: Authentic reproduction of the original 1955 San Francisco 49ers Football Jersey worn by Y.A. Tittle. This jersey is as authentic as they come!
This jersey is also available in #34 Joe Perry. If you would like to order #34 specify in the comments section at checkout.
Product Details:
Made in one of the original US factories
Genuine 1950s-1960s "Durene" fabric
Nylon outer and cotton inner layer
Doubled elbows
Hand sewn twill "14" on front & back
Item #: SAN55FJ
League: NFL
History: Y.A. Tittle played 10 of his 17 years in the NFL for the San Francisco 49ers. He was selected to 4 Pro Bowls while there, and teamed up on many successful completions with receiver R.C. Owens by throwing the ball WAY high out of the defenders reach. The play famously became known as the "alley-oop." Considered washed up when he was traded to the New York Giants in 1961, Tittle went on to lead the Giants to 3 straight Eastern Division titles and Championship game appearances to finish his Pro Football Hall of Fame career. His #14 has been retired by the Giants and he is also a member of the 49ers Hall of Fame. 
This jersey is an officially licensed product of the Football Greats Alliance. A portion of all proceeds benefit the Greater Good Fund, whose purpose is to improve the health and wellness of retired NFL Players. To learn more, visit www.footballgreatsalliance.com  
Please note: Due to licensing, this product cannot be customized.
x
DURENE JERSEYS
| SIZE | SM | MED | LG | XLG | XXLG |
| --- | --- | --- | --- | --- | --- |
| Top | 34-36 | 38-40 | 42-44 | 46-48 | 50-52 |
| Approx. Ht. | 5'0" - 5'6" | 5'4" - 6'0" | 5'8" - 6'2" | 5'9" - 6'2" | 5'9" - 6'2" |
| Approx Wt. | 90-120 | 120-150 | 150-180 | 180-220 | 220-270 |
Size Guide

DURENE JERSEYS

| SIZE | SM | MED | LG | XLG | XXLG |
| --- | --- | --- | --- | --- | --- |
| Top | 34-36 | 38-40 | 42-44 | 46-48 | 50-52 |
| Approx. Ht. | 5'0" - 5'6" | 5'4" - 6'0" | 5'8" - 6'2" | 5'9" - 6'2" | 5'9" - 6'2" |
| Approx Wt. | 90-120 | 120-150 | 150-180 | 180-220 | 220-270 |

Returns/Exchanges

30 day Return Policy. If your item is unworn and in resellable condition you can return for a full refund within 30 days (shipping rates apply).

Doesn't fit? No worries, exchange for the perfect fit within 30 days of delivery.

See our complete return policy

Shipping

$5.95 Flat-Rate Shipping* | FREE on orders $125 & up* | $20 Flat-Rate International

* Within the US.
Customer Reviews
Write a Review
Ask a Question
11/26/2019
nick g.
United States
Review: 49ers throwback
Scored 2 TDs on first use. Actually, if the current team would look no further than your catalog (and learn something) they'd s++tcan their Ohio State lookalike jerseys and acknowledge the advantage a 75-year old franchise has over the god-awful change-for-change's sake what passes for design. But of course, that might ****** their profit center on tops to the "Faithful", who'll apparently buy anything. You go EFF!
05/19/2020
Murf
United States
Amazing A+++++
I love this jerseys fit,feel, and look. If you put this jersey next to a 49era of this time period of Yelberton Abraham Tittle Jr. It matches time period . I think these jerseys are amazing the durene fits spot on!!! I ordered a 2xl I love it!! This is of Mitchell and Ness USA durene quality to compare to but fits a little looser I love them both!!! Please make more years this is the era of football that made football today!!! 40s through 80s . It all really got interesting with the talent of the 1950s men among men! Please keep making more years of NFL!!!!!!!!
03/18/2020
Brandon L.
United States
A truly amazing piece of history, Joe "The Jet" Perry
I was amazed by the craftsmanship on my Joe "The Jet" Perry jersey. You can tell the Ebbets staff took great time and care into recreating this masterpiece. Truly authentic in every aspect and the fit was perfect; from the sleeve length to the location of the reinforced elbows. There's only one truly authentic vintage jersey brand that stays true to the standard of vintage and Made in the USA, and that's Ebbets.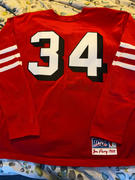 03/01/2020
Joaquin G.
United States
01/27/2020
Tim D.
United States
My favorite ebbets jersey!
This is a great jersey. Love the feel and look of the durene material. Fits great, looks great, and did not wait long to receive it. If I could afford it would love to have more in my collection (would love to see a Vikings down the road). Thanks EFF.