Ebbets founder and CEO, Jerry Cohen, picks his favorite ballcaps from our Pacific Coast League collection. We are celebrating the PCL from 1903-1957 with new product releases, blogs and history and a 20% discount on all PCL gear!
As someone who grew up on the East Coast, discovering the history of the old Pacific Coast League was like suddenly finding out there were eight major league baseball teams I had never heard of. As we often state the PCL was a "minor league" in name only, and until 1958 when the Dodgers and Giants moved West, the league was on its way to official recognition as a major league.
A big part of my education was simply meeting PCL enthusiasts, first in Seattle, where I had recently moved to, and then in California where I attended PCL reunions and met many fans and players from the league. The photographs, original caps, and memories of people like Doug McWilliams (photographer for the Oaks and later A's), the historian Dick Dobbins, Jay Berman (still misses the old Angels), and Brian Neilson (diehard Seals fan) was crucial to giving us a jump-start in our early days.
We've done dozens of different PCL caps over the years, so it's very hard to pick just a few favorites. In the end I decided to go with the era of the early 1940s, because we have a few interesting caps from that season.
The Oaks had a variety of color schemes and uniform designs over the years, but my favorite period was the late 30s to early 40s when the team sported the highly unusual kelly green and red combination. It has been said that the red-and-green colors were a tribute to owner Cookie Divencenzi's Italian heritage. Another interesting thing about this cap: Look closely at the green oak leaf. It is shaped like a bear. Or is it?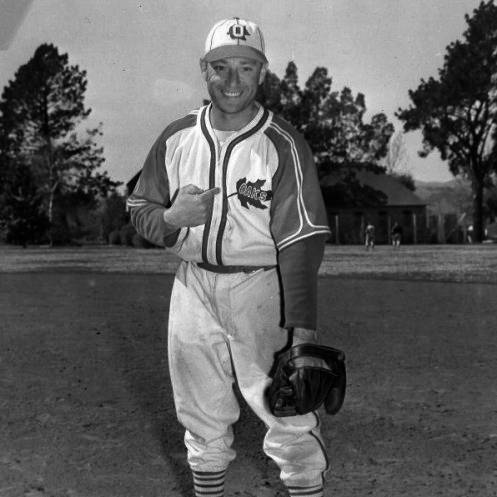 Speaking of bears, let's move across the Bay, where the Oaks' arch-rivals, the San Francisco Seals placed an orange seal on their cap after years of unadorned headwear. The 1940 "Lefty O'Doul era" cap is still my personal favorite. This cap admittedly took a couple of years to get right, as we did not have access to an original, nor were there high-quality photos available. The Seals sadly dropped both the seal on their cap and the color orange after only a few short years, and after a few other experiments finally settled on the classic interlocking "SF" in 1948.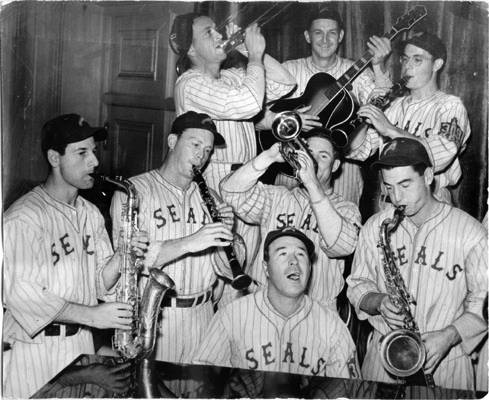 Lefty O'Doul and the SF Seals 1939
Los Angeles Angels (PCL) 1943
We go to the Southern California for my third and final pick. The Los Angeles Angels, like their intra-city rivals the Hollywood Stars, flirted between navy and royal blue for much of their history. This indecision has made researching their uniforms challenging, black and white photography being the primary source material. We have also occasionally spoken of the difficulty in identifying the rare 8-panel caps, so it was extremely exciting to receive this picture from a PCL researcher, which clearly shows the Angels wore an 8-panel cap (at least for one season). Like most other teams in the league, the Angels changed uniform and hat designs with a high degree of frequency, so correctly identifying the years and colors can be difficult.
The Pacific Coast League provides the serious cap collector with a rich baseball heritage from which to choose. One can build a collection based on acquiring as many of one team's hats as possible, or go with a given year or time period, as I have done here. And I'm proud to say, after 30 years we're still coming up with new caps! Stay tuned…